When you're building a tech company, putting the right pieces in place early makes a huge difference. That means hiring the right team, establishing the right processes, and building the right tech stack. That last bit rings particularly true when it comes to your finances.
Having the proper tools set up from the get-go allows you to keep track of all your accounts payable and receivable. It makes it easier for you to identify potential cash flow issues — and to do so early, before they get too pressing. It can also help you make projections, driving smart decision-making as you scale. 
Ultimately, an optimized finance tech stack can be one of your most valuable assets. But with so many tools out there, you might be wondering which will best meet your needs. 
We have years of experience helping tech startups fine-tune their fintech, so we pulled from our expertise to highlight our must-have suite of tools. Here are five solutions well worth adding to your stack:
#1: QuickBooks® Online
QuickBooks is ubiquitous, and not just when it comes to tech companies. They're one of the most widely used finance solutions for good reason. Their online portal offers a variety of tools that most businesses need, including:
Cash flow

Bill management

Project profitability

Invoicing

Income and expense tracking

Inventory

Time tracking

Payroll

Tax deductions
You might not need all of this functionality right out of the gate, though. And that's why QuickBooks offers a tiered plan system that allows you to only pay for what you need. Their Simple Start option gives most tech startups what they need in their very early stages, and you can scale up from there. 
And if you think it's too early to start bookkeeping, think again. Tracking everything from the start will make tax time significantly easier and less stressful for you. Plus, if you get your processes in place early, scaling your finances along with your business gets much simpler.
QuickBooks earns good marks in terms of user-friendliness and service (see here and here), but there is a learning curve with their online interface. Fortunately, we can help. Our ShayCPA team members are QuickBooks Online Advanced Certified and we have ProAdvisors on staff. 
That means we've taken extra training from QuickBooks to best understand all of the tools they offer. We can get your tech company started on QuickBooks with minimal work on your end, and we can help you use this solution to its fullest potential as your startup grows.  
#2: Brex 
If you're looking for the ideal business account for your startup, Brex is well worth your attention. Here are some things we love about them:
Easy stack integration.

Brex syncs with QuickBooks, Gusto, and a range of other solutions to keep data flowing properly throughout your fintech stack. 
Revenue access.

If you use Square, Stripe, PayPal, Shopify, or Amazon, Brex lets you access any earnings immediately.  
Zero-fee payments.

Brex allows you to both pay others and get paid (including ACH and wire transfers) with no fees at all, even if you're sending money internationally. 
Business account.

Brex business accounts come with minimal fees. There's no minimum balance requirement and you don't need to worry about account, transaction, or hidden fees. Deposits with Brex get $250,000 of FDIC coverage so you can rest easy — because with the startup struggle, you just don't need anything else to worry about. 
Credit cards.

Brex issues credit cards with a solid

rewards program

, which includes categories that can be particularly beneficial for tech startup founders in the New York City area. They offer 3X points on recurring software purchases and 8X points on rideshare costs. You can then redeem your points for cash, statement credit, airline travel, and more. 
#3: Bill.com
Whether you're a startup in the very earliest stages or you're an established tech company, one thing always remains true: payment can make or break your business. Cash flow is often one of the biggest challenges for companies as they scale, and that largely comes down to the fact that many organizations aren't as on top of their bills as they could be.
As its name suggests, Bill.com can help to change that. It leverages AI and ML to streamline your payment processes. You can automate bill payments to vendors all across the globe, send digital invoices (with automated reminders), establish the right approval workflows for your team as they create invoices or pay bills, and keep a log of everything so you're always audit-ready. 
If you want help ramping up with this solution, our Bill.com Certified Accountants are here.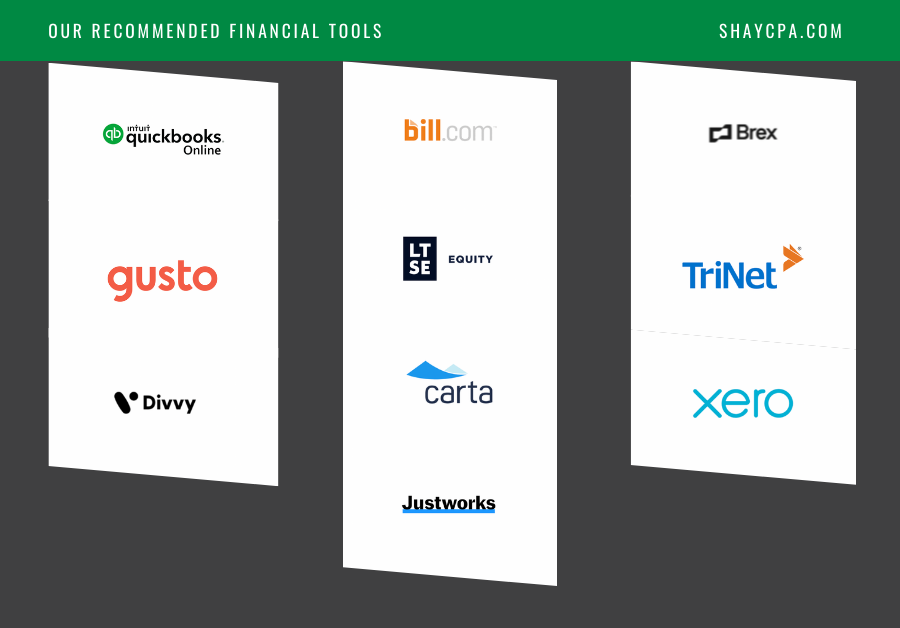 #4: Gusto 
Your fintech stack can't focus just on numbers. It also needs to take into account the driver o those numbers: people. With Gusto, your startup can easily bridge the gap between A/R and HR. Their solution offers:
Payroll, including time-tracking functionality

A customizable health benefits package you can offer to your team

Hiring/onboarding tools, like customizable offer letters and an online portal for sending, signing, and storing the relevant documents

Cashout™

, which allows employees access to money between paychecks to cover emergency expenses
Gusto also offers a Concierge plan that allows you to tap into their certified HR experts. 
To help you get the most out of Gusto, our ShayCPA team earned their People Advisor Certification, meaning we're well versed in how you can benefit from their service. 
#5: Carta
As a tech startup, Capitalization Table (Cap-table) management plays a key role in overseeing equity as you move forward. Fortunately, that doesn't have to be a daunting task of extensive spreadsheet administration. Carta delivers an equity management solution that can help you keep tabs on your Cap-table. Plus, you can use it to monitor any investments and access valuations. 
Other alternatives
Your fintech stack will probably look as unique as your startup. While we outlined some tried-and-true tools above, you might need to finesse your stack to meet your specific needs. Some other solutions that might help include:
Just to reiterate, if you want help building the right finance tech stack for your startup, our team can help. We can recommend the right solutions, get you started in the relevant software, and help you set your company up for financial success moving forward. And we can do all of this while adding minimal work to your plate. Get in touch.