When your startup is in its early stages, it makes sense to outsource. You might hire a fractional CFO, and you'll likely hire an accounting firm. You may also want to explore outsourcing a lot of the key functions of a human resources (HR) department. 
Fortunately, that's getting much easier. More and more companies offer solutions to help startups meet their HR needs without hiring an internal team. In fact, there are so many choices available today that you probably need to get clarity about what, exactly, your startup needs before you shop your options. 
That's particularly true because some companies handle your payroll while others offer a more robust suite of services. If your startup truly only needs payroll, you'll generally save a fair chunk of change by choosing one of the more streamlined providers. As you scale, though, you might be more interested in a professional employer organization (PEO). 
To help you determine what's best for your business, let's clarify the difference. 
Differentiating between payroll companies and PEOs
A payroll company is just what it sounds like: a service provider that handles payroll on your business's behalf. You give them your employee information, like how much they should earn in any given paycheck and the account to which that money should be deposited, and they handle the rest. 
You might not think that payroll is that complicated. But don't forget about deductions for the benefits you offer. And keeping track of employees' time if they're hourly. 
Plus, cutting any paycheck requires a fair bit of work because of the federal and state tax implications. You need to make sure you're withholding the right amount for Medicare and social security, and you need to regularly deposit that money. There's also a fair bit of associated tax reporting. 
Ultimately, payroll is a lot more complicated than it seems on the surface. Fortunately, countless payroll service providers can handle all of this for you.
With a PEO, you go further. Generally, these companies structure their business so they can replace an HR department. That means they usually offer payroll, plus administration for your:
Retirement accounts

Healthcare

Other benefits

Workers' compensation

Onboarding

Employee time tracking
As you'd expect, the cost for a PEO generally exceeds the cost for payroll services alone. But it might well be worth it, especially when you compare the cost for bare-bones payroll with the relatively small additional amount you'll pay for more HR functionality. 
With a PEO – Startups can benefit from pooled rates for employee benefit plans. When using a payroll company, your startup has only the option of a small group plan which very often can work out to be more expensive in the long run.
PEO Companies generally file all payroll tax returns using the PEO's Tax ID Numbers, versus traditional payroll companies where you as the Company file payroll tax returns with the company's Tax ID Number. This is a subtle difference that can sometimes create issues that tech companies should keep in consideration. 
Not only can a PEO service help your startup get access to the tools and services it needs as it scales, but it could save you money. A lot of PEOs work to help you prevent expensive compliance mistakes and issues like wrongful termination or harassment claims.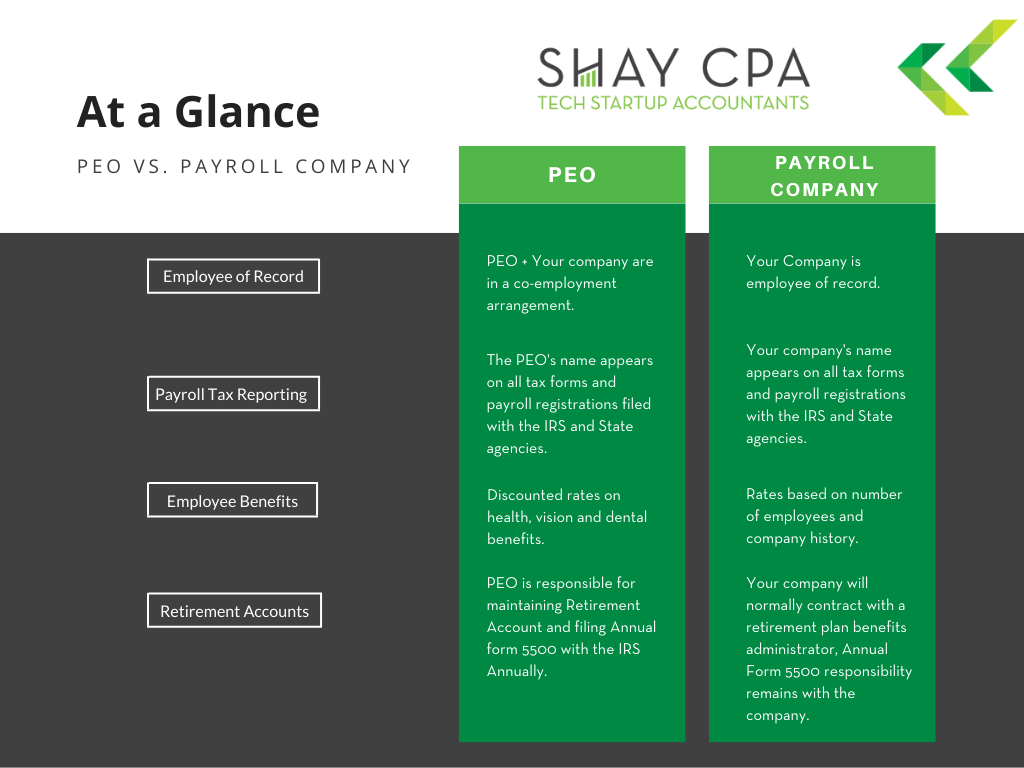 Exploring your payroll and PEO options
To help you get a better feel for which option best fits your startup's current and future needs, it can be helpful to explore specific companies and what they offer. Here are four providers that our ShayCPA team has worked with and recommends. 
Gusto
Gusto started as a payroll service provider (they were called ZenPayroll at the time), but has since expanded. Today, the company offers:
Payroll 

Health benefits

Hiring and onboarding services

Workers' compensation

401(k) accounts

Time and attendance tracking

Talent management services like performance review templates and learning & development tools

Law/regulation alerts
Gusto integrates with a range of other products across multiple aspects of your business's operations including: Expensify, Quickbooks® Online, Intacct®, and Xero™.
Since payroll was their bread and butter for a while, it's no surprise that they have a lot to offer there. Filing your taxes with the appropriate government agencies is included in their pricing structure. They also sync their payroll with other Gusto tools, like their time tracking tool with geolocation functionality, to make it easier to run payroll each cycle. They're currently set up to pay contractors in over 80 countries, too. 
With Gusto, you also get access to their team of certified HR experts. They can help you avoid the aforementioned costly compliance mistakes and answer questions about unique situations as they arise. 
Choosing Gusto also means that your employees will get access to Gusto Wallet, a free app that gives them functionality like splitting their paycheck between multiple accounts or setting and tracking savings goals. Every member of the ShayCPA team is Gusto People Advisor certified, so we know the ins and outs of the service.
Justworks
Justworks is a PEO service that also offers a broad range of services to meet the needs that would normally be filled by an internal HR team, including:
Payroll

Health benefits

401(k) plans

Onboarding 

Work hour tracking

Integrates with

Quickbooks® and  Xero™
When your startup chooses Justworks, you get access to their HR consultants. Plus, even the basic plan includes employment practice liability insurance. They also file your payroll taxes, along with W-2s and 1099s, on your behalf. 
The company offers 24/7 support available via phone, email, text, Slack, or chat, too. 
TriNet
A similar player in the PEO space, TriNet also offers payroll services and bundled HR services. They deliver:
Work hour tracking

Expense management

Workers' compensation

Health insurance

401(k) plans

HR consulting

Integrates with

Quickbooks® Online, Netsuite®, Intacct®, Xero™, and more
With TriNet's payroll, you get someone to calculate and withhold the appropriate taxes, plus electronic submittal of those withholdings. 
On the HR side, they offer a variety of services, from leadership training to compensation consulting. 
TriNet also recently acquired Zenefits, so if you like that user interface better, you can explore their services knowing they're backed by the same level of expertise.  
Rippling 
Rippling touts itself as an employee management platform. They blend the PEO services we've talked about here with an IT cloud to power secure app and device management.
On the PEO side, they offer:
Payroll 

Healthcare plans

401(k) plans

Employment practices liability insurance

Workflow automation for certain HR, IT, and finance tasks

Learning management 

Recruiting and onboarding

Work hour tracking
Like Gusto Rippling offers a robust list of system integrations including: Certa, Chase, Ramp, Expensify, Bill.com, Brex, Strip, Paypal, SVB, Quickbooks® Online, Netsuite®, Intacct®, Xero™, and more.
Like the other solutions we've outlined, Rippling's payroll includes handling the appropriate filings for your startup.
With their IT services, you get things like single-sign-on and multi-factor authentication for all of the apps your company uses, along with device setup and security functionality. 
If you want help pinning down the right solution for your startup, we can offer some insights. As accountants who specialize in tech startups, we've seen what works — and how it works. We can explore your use cases to help you get closer to finding the best PEO or payroll company for your specific needs. Get in touch.