Here at ShayCPA, we strive to deliver a personalized experience. We know that finances are a source of stress for a lot of tech startup founders, and we want to help alleviate that with our dedicated expertise and our friendly approach.
With that in mind, we want to give you the chance to get to know the people who make the magic happen at our office. And there's no better place to start than with the woman who ensures our team and clients are thriving. Meet our Operations and Marketing Manager, Nina Lopez-Ortiz. 
Nina's background
Nina was born and raised right here in New York City. She earned her Bachelor of Arts in English at Queens College, City University of New York, and is currently pursuing her English Master of Arts there, as well. 
She made good use of her English degree, working part-time as an editor with small publications and publishing houses for a decade. But her full-time jobs have always centered around office administration. For four years, she worked as the office manager for the Tech Incubator at Queens College. That startup environment prepped her to help our tech-focused office succeed.
Nina's an avid reader (as you'd probably expect from her educational background) and a big fan of cartoons. In fact, you're more likely to catch her binging Looney Tunes than the latest Netflix show.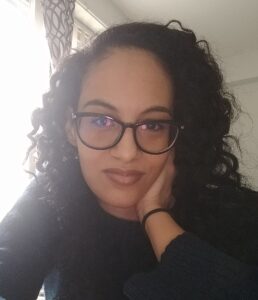 Why you'll want to know her
Nina ensures everything is flowing smoothly here at ShayCPA. She drives our top-tier customer experience and has helped to build metrics that allow us to track — and improve — the quality of our services. In fact, she continually invests extra time to ensure that each client's needs are addressed properly.
She also has a personal stake in helping market disruptors succeed. Driven by a passion for sustainability, she tries her hardest to avoid big brands unless their mission and values align with hers. And that means she's always on the lookout for new up-and-comers who can turn the market on its head. 
An introverted people-person, Nina gets a lot out of connecting with our prospective ShayCPA clients. When you start working with us, she'll be the one to onboard you. That means she'll take the time to understand your specific needs, helping us best tailor our services to you.
But this can't be a one-way street. Nina believes that accounting is a partnership that requires give-and-take between the accountant and the business. Fortunately, she thinks (and we all agree) that our small size and laser-focus on supporting tech companies help us build the best partnerships possible. Nina loves that we can be there from the start, helping our clients navigate through all of their growing pains — and pull from our expertise to help to minimize them. 
We're glad to have Nina here to help our office and our clients succeed! 
We'll be continuing this series on our team so you can get to know all of the people behind ShayCPA, and what they each bring to the table. But if you're ready to get to know us beyond reading our bios, and to get started with our tech startup accounting services, contact us today.