If your startup is in its early stages, your plate probably feels overly full. With so much to do to get your idea off the ground, fund your growth, and scale your operations, it's easy to push things that can wait to the back burner. 
The thing is: bookkeeping isn't one of those to-dos that you can put on hold. While it might feel like keeping track of your finances doesn't need to be a high priority when your income is at a trickle, waiting to start bookkeeping could leave you kicking yourself. 
You don't have to take our word for it, though. 
We argue that you shouldn't wait to get your financial tracking in order, but why, exactly, does a pre-revenue startup need bookkeeping? Here are four good reasons to start now. 
#1: It preps you for tax season
If you think your business will report any income at all to the IRS this year, you're going to want a clean set of books to present. If you start keeping track of your P&L at some random date, you make things complicated for your CPA — and potentially for yourself, because it could leave you facing an audit. 
Plus, tracking your finances can be a big help in your pre-revenue days. You're probably shelling out for office equipment and furniture, software, rent, and more. And all of those things could become tax deductions, provided you have proof of your spending. 
In fact, starting to track your expenses now can help you secure an R&D tax credit. And that can make a big difference in helping your company turn a profit as early as possible. 
How, exactly, do you maximize your tax deductions? You need to be able to prove to the IRS that you've spent money in relevant business expense categories. Enter: bookkeeping. 
Filing taxes shouldn't be a headache or a source of stress. By bookkeeping right out of the gate, you ensure that it won't be. 
#2: It saves you hassle later
The processes you put in place now will help your business grow, provided they're the right ones. Specifically, establishing the proper financial practices can save you a ton of effort and time down the road.
At some point, your startup will definitely need to start bookkeeping. If you wait, you'll have to pick a random day one and start there. 
Past expenses can muddy the waters, and any accounts you link to your bookkeeping software or export into your bookkeeping spreadsheet will almost definitely show past expenses. At that point, you have to either ignore them, which can make things confusing if they show up on any reports you run, or to retroactively categorize them. That can become a huge time-suck and source of frustration. 
Long story short, if you start bookkeeping when you start your company, you keep your books clean. And you learn habits that will help you stay on top of your finances as you scale.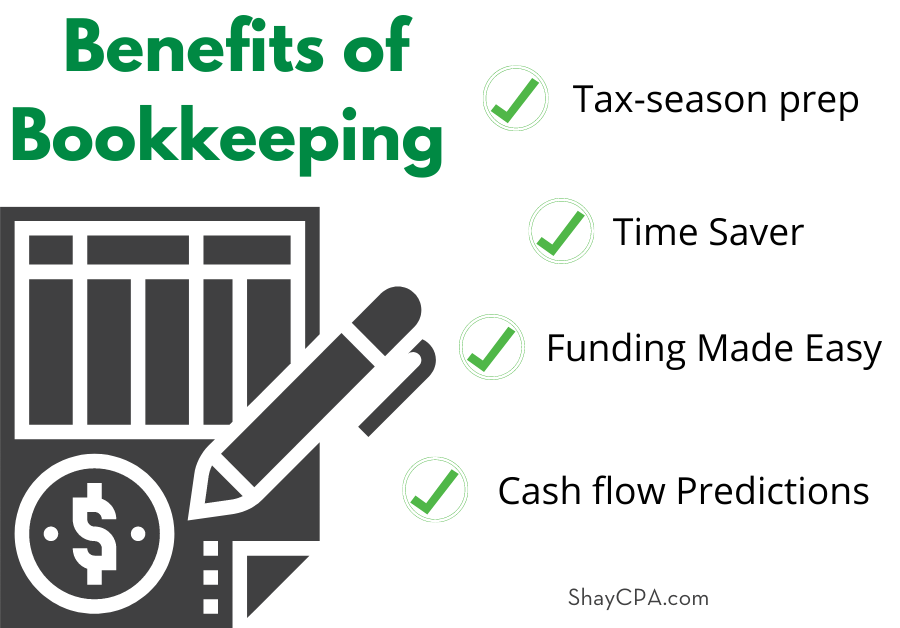 #4: It helps you predict the future
You probably have a rough idea of how you expect your expenses to play out as your startup grows — and starts turning a profit. But the reality might look different. When you bookkeep from the get-go, you get data. You can then use those data points to predict future business expenses, informing your choices moving forward. 
Plus, as you secure funding, you're going to need a way to track your burn rate and runway. And guess what bookkeeping delivers? Just that.  
Getting started with bookkeeping
If we've convinced you, you're probably wondering about the easiest way to start bookkeeping. Good news: this doesn't have to be overly complicated. There are plenty of bookkeeping software solutions that can do the heavy lifting for you. All you might need to do is set up your account and review it periodically (e.g., weekly) to categorize transactions and reconcile your accounts. 
In the beginning, with software at your side, you can probably handle your bookkeeping on your own. It shouldn't take you a ton of time, especially once you get the hang of it.
There will likely come a time, though, when you'll either want to hire someone internally to handle your tech company's books or outsource your bookkeeping. At that point, you'll know what to look for, either in a new hire or a service provider. Because you'll have some bookkeeping experience under your belt, you'll be in a position to find the right person or company to meet this need for your growing business.  
Also, we can help. As accountants specializing in supporting tech startups, our ShayCPA team can take the work of tracking your finances off your plate. Our accounting experience means we move beyond simple bookkeeping — our team analyzes your financial situation to help your startup make the right moves in each phase. And we can scale our services with your startup as it grows, helping you stay on top of your financials so they support your success. 
If you're ready to get started, contact us.