Digitalization makes our world smaller by the day. And that means that as you're hiring for your startup, you don't necessarily want — or need — to limit yourself to recruiting domestically.
Historically, the problem with hiring someone in another country has largely come down to two things: getting them paid and managing the associated tax liability. 
Fortunately, a number of increasingly robust software solutions can handle not just that first bit, but also the second. 
If you're interested in hiring abroad, explore your international payroll solutions. We've seen a number of our clients successfully use two, so we're highlighting them here. 
Remove vs. Deel: how each works
Remote offers employer-of-record (EOR) services, which essentially means they function as the employer of your employee/contractor in the eyes of the country in which that employee is located. As a result, you don't need to establish an entity in that country. And the onus to ensure labor law compliance is on Remote, not you. 
As some added bonuses, Remote administers and manages benefits, when applicable, and specifically includes contract services designed to protect your intellectual property when you hire abroad. 
Deel's global payroll services also function through employer-of-record services. Again, that means you don't need to establish an entity in the country in which you hire an employee, and you can rest easy knowing Deel's local experts will maintain compliance with applicable local payroll tax law. 
Deel's platform also offers onboarding functionality for those new hires. And they can help you make data-driven decisions with their user-friendly dashboards to track payroll, benefits, and more. 
Note that these EOR services don't necessarily mean you won't need to open an entity in the region. Depending on the country, their local laws, and the work you plan to do there, you may still need to get established. Even so, using an EOR can allow you to get started with local hiring while you go through the steps of setting up your entity.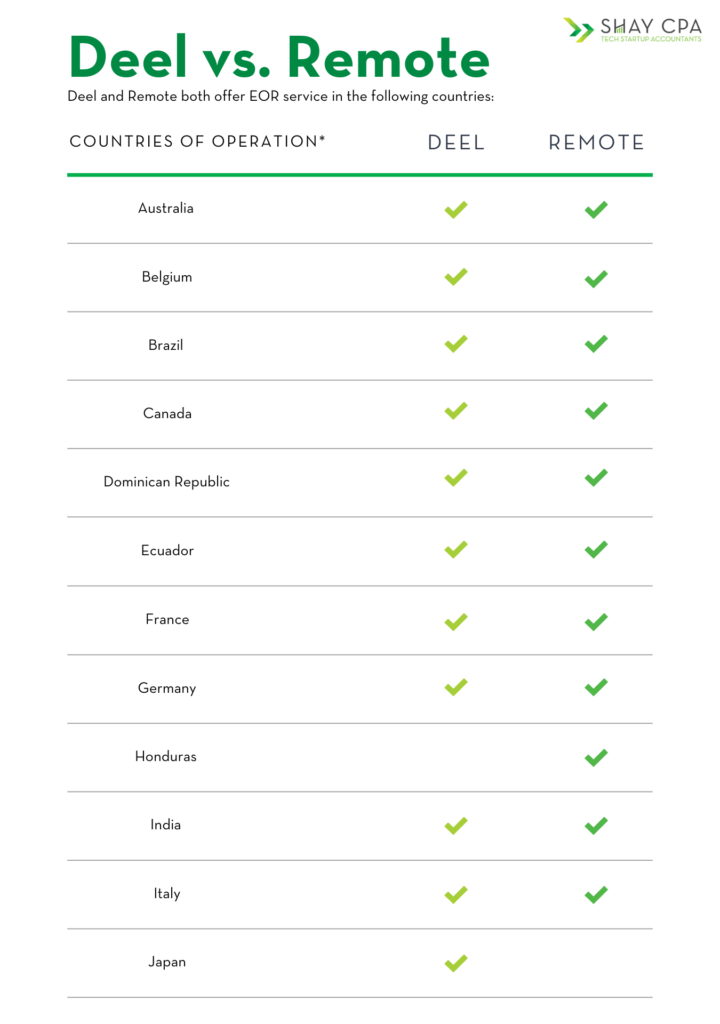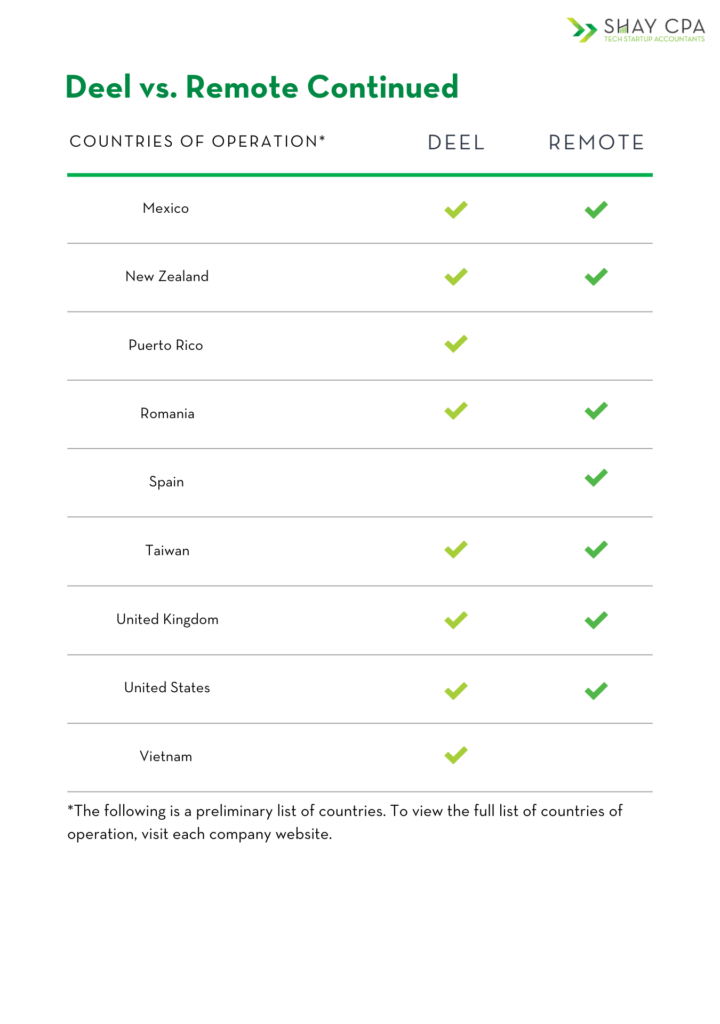 Pricing
Using Remote's EOR services costs $599 per employee per month, per their pricing page. Contractors cost $29 per contractor per month. Right now, Remote has a waitlist for their global payroll services — allowing you to consolidate payroll across multiple countries — but you can still reach out for a quote. 
Deel isn't as transparent with their pricing. In fact, they don't list any figures on their pricing page, although they say that hiring contractors costs $49 per contract per month on their FAQs page. That said, Deel does offer a first-year contractor discount for VC-backed startups with less than $10 million in funding. 
Integrations
Deel currently integrates with:
QuickBooks

Xero

NetSuite

Bamboo HR

Ashby

Greenhouse

HiBob
They also plan to launch an integration with Lever soon. 
Remote, on the other hand, only has details about its integrations with Bamboo HR, Greenhouse, and HiBob. 
Support
Both companies offer 24/7 support, which is especially helpful if you're working with employees across a wide variety of time zones. Remote primarily uses email for its support communication, while Deel offers live chat functionality. 
Companies that use them
If you want to rest easy knowing that your global payroll solution is up to the task, it can be helpful to know which companies have seen success with it. To help there, both Remote and Deel promote their user bases. 
Deel users include:
Nike

Dropbox

Shopify

intercom

dLocal

Alan 

Notion

Reddit

Revolut

Airtable
Remote, on the other hand, gets used by:
Hello Fresh

GitLab

Loom

Arduino

Pento

Mavenoid

&Open

Swell

Cargo.one

Paystack
Our two cents
Both Deel and Remote offer reliable EOR services that can help startups scale their recruiting into new countries.
As you're thinking about growing outside the country, don't forget to also be thoughtful about how you scale domestically. Hiring a remote worker in a new state creates a nexus there, which comes with implications for your company. 
For help finding the right global payroll solution for your startup while managing your payroll taxes here, contact us. Here at ShayCPA, we specialize in helping startups and can apply our expertise when and where you need it.