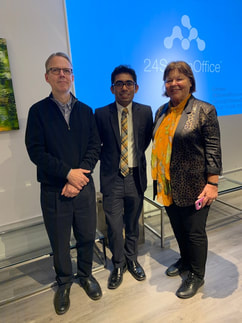 On November 14, Akshay Shrimanker of Shay CPA P.C. participated in a panel discussion about accounting and artificial intelligence hosted by Michael Guthammar inside the offices of 24SevenOffice. The panel also included 24SevenOffice CEO Stian Rustad and Westmusa Inc. President Ann-Christine Westerlund, and lasted for about two hours.
Rustad started off the evening by giving background information on his firm, which he founded in Norway back in 1997. He spoke about their unique cloud-based approach, as well as their plan to expand in the United States and other countries. He also touched on the benefits of using artificial intelligence for accounting and bookkeeping, which he feels is the future for the industry as humans can be too error-prone.
The discussion then followed after Rustad's presentation, with Guthammar asking related questions to fellow panelists Shrimanker and Westerlund.
Shrimanker first explained about Shay CPA P.C. and our services to everybody in the room, before transitioning to the importance of artificial intelligence. He mentioned how some of our clients are already using artificial intelligence for various purposes such as security, pattern recognition models, autonomous vehicles, and risk management.
He also talked about both the positives and negatives of the increased use of artificial intelligence. For instance, it can get the work done faster but fees might increase as a function of lower-order tasks being automated, and higher-order tasks being more valued such as analysis and planning.
He summed it up by explaining artificial intelligence requires more access to inputs and sensory information to truly reach its potential, and it's going to take some really charismatic people to make people buy into it.
The discussion wrapped up around 8 p.m., and some light snacks and drinks were served to attendees.